TAMPA BAY – Best Places to Live Video
Tampa Bay is one of the best places to live in in Florida for so many reasons. There's a lifestyle for almost everyone from Luxury waterfront living to gated suburbs on golf courses to affordable apartment and everything in between. Tampa has a fantastic sports culture, there is easy access to open water, and some of the best beaches in the US. There are top rated schools, a growing tech community, and plenty of family friendly neighborhoods.
If you're unfamiliar with the area and perhaps considering a move here, then you're likely noticing that Tampa is quite expansive and it may even be overwhelming to figure out where to begin your home search. In this video, I am going to take us around and explain some of the best or most popular areas around Tampa Bay.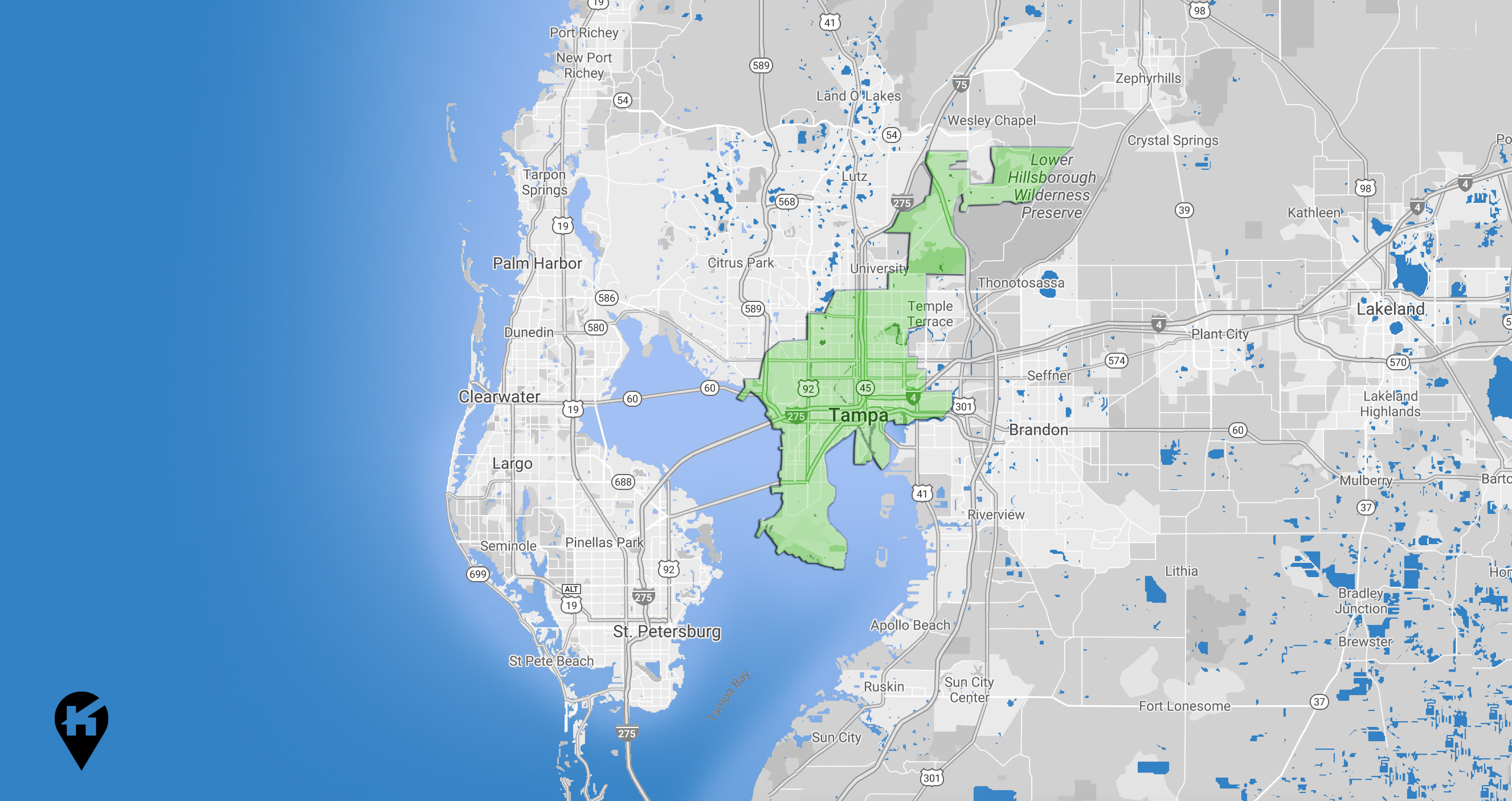 Map Of Tampa
If you're look at the Map of Tampa, it covers this area from this peninsula and goes inland about 30 miles north. However, people often refer to and consider Tampa Bay this entire enormous section of central west Florida.
Tampa Bay Area Map
The reality is the Tampa Bay Area is made up of many different towns, cities, and municipalities each within about a 45 minute drive time from each other. So let's get you on track with a high-level overview and see some of the more popular places to live in Tampa Bay so you'll have a much better understanding of where to begin your home search.
It's no secret that people are attracted to Florida and Tampa to live near the beach, so let's start this video there.
Clearwater and St Petersburg:
St. Pete Beach and Clearwater Beach regularly make the list for top beaches in the US. St Pete Beach is [3]right here to the west of Tampa Bay and Clearwater Beach is a little north of St Pete Beach. If you're looking at them on the map, you're probably noticing they're really not a big area of land. However, just across the inlet, you have the cities of St Petersburg and Clearwater which are much bigger in size.
There are actually quite a few smaller municipalities in between St Petersburg and Clearwater such as Largo and Seminole. The biggest difference between living on this side of the inlet vs the beach is you're not walking distance to the beach, this area has a more primary residential feel with more full-time residents, and overall, it is more affordable.
The beach side has what you would likely expect out of a beach town, which is more of a vacation destination feel. It is more of a secondary home market, more multifamily homes, and vacation rentals, etc. In Clearwater, you'll find many of the homes were built in the 1950's to 1990's. While Saint Petersburg was established earlier on, so you will find more historic homes that were built in as early as the 1900's and on. There are lots of renovated homes and occasional new construction available as well. Downtown St Pete has a lot going on in terms of things to do, infrastructure and growth as does our next stop on this tour, which is South Tampa
South Tampa
Located across Tampa Bay from St Pete is what locals know and love as South Tampa in this area. This is a premier area of Tampa Bay for many reasons. It's one of the first established areas of Tampa Bay which means you'll see there is a lot infrastructure and things to do. You can find some of the most expensive homes and prices per square foot in South Tampa compared to neighboring communities. The public schools are fantastic and is a large selling point to own a home in South Tampa. It is a very family friendly community. The proximity to downtown is ultra convenient. There's lots of character in the neighborhoods with many homes built in the early to mid 1900's. You can find luxury water front condos or estates like Derek Jeter's home to small starter homes or condo rentals. Popular neighborhoods in South Tampa include Hyde Park, Harbour Island, Bayshore Beautiful, and Davis Islands to name a few.
Westchase
Heading inland, you'll find the desirable community of Westchase. This is a planned community that was constructed in the 1990's. Your dollar will go bit further here compared to South Tampa. Lot sizes tend to be a bit bigger, the school systems are desirable, and the location is still very convenient. It is less than 30 minutes drive to get to downtown or the beach from Westchase and it is also a quick trip to the airport if traveling is important to you. When living in Westchase, you'll enjoy the community amenities like pools, tennis courts, and golf courses. Westchase does attract lots of families because it is such a family friendly community, it has a very nice feel, and it's affordable for the location. If you like the idea of your dollar going further, then you'll also like the next area, Lutz
Lutz
If you would like to be a little farther away from the bustle of a downtown and you want a sizable home on a large parcel of land, then Lutz is worth looking into. The dollar goes farther in terms of home size and land size. For example, you can get a newer 5 bedroom home in Lutz for close to the same price you can get a small renovated 1940's 3 bedroom home in areas like South Tampa or the historic North East St Pete. A little fun fact about Lutz is the iconic movie Edward Scissor Hands was filmed here in a neighborhood called Carpenters Run, which is fun but should not be the determining factor for you to move to Lutz.
Wesley Chapel
Wesley Chapel is another nice area a little ways out from the business of downtown Tampa.
Wesley Chapel has lots of different subdivisions many of which are in gated communities. Many of the developments in WC began in the early 2000's and new developments are still available. Epperson Ranch, known for its massive Crystal Lagoon, is one example of an amazing community within Wesley Chapel. Be sure to check out my Epperson Video if you want to see more on that community. There is a new downtown being developed along with, new schools and even more infrastructure coming soon to Wesley Chapel, which will very likely increase home values here over time. Now let's head back to the water for the next area, Apollo Beach.
Apollo Beach
Apollo Beach is south of Tampa and on the coast of the eastern side of Tampa Bay.
This area is a great place to find waterfront homes at a much more attractive price compared to St Pete or South Tampa's waterfront homes. You can find mostly singe-family homes in Apollo beach. There are a variety homes that range from the mid 1900's ranch style to brand new construction waterfront. If you enjoy fishing or just getting on boat and quickly being in the open ocean, then you'll love the Apollo B each location. Mirabay is an example of a new construction community with waterfront homes available in Apollo Beach. There are other new construction communities available that are not on the water such as Waterset or Lynwood Manors.
Brandon and Valrico
Going just north and inland of Apollo Beach, here are two more popular areas called Brandon and Valrico. You can find a bit more affordable homes in Brandon and Valrico with still being relatively close to downtown Tampa . You can find homes that were built in the mid 1900's and on with lots of new construction available as well. Another popular neighborhood bordering Valrico/Brandon is Fish Hawk , which is a really nice family friendly community. In the past, these areas were farms or ranches that have since been converted to residential subdivisions. Brandon and Valrico experienced rapid growth in the mid 1900's and then again in the 1980's. This is why you won't find many homes that were built in the early 1900's like you'll find in South Tampa.
Carrollwood
Carrollwood is another popular area of Tampa. It is in a very central location to Tampa Bay. Carrollwood was largely developed in the 1980's. The location is great because it's only a 10-12 mile drive to the airport or downtown Tampa. The beach is about a 45 minute drive, so it is not that close, but also not that far away from the beautiful Gulf Coast beaches.
You won't find many new construction homes here because most of this area has been developed and the homes are mostly all in good or great condition and would not be ideal for tearing down and building new. You will find lots of very nice established subdivisions in Carrollwood with amenities like country clubs and golf courses. Lake Magdalene, Carrollwood Village, and Northdale are some of the poplar neighborhoods or communities here within the Greater Carrollwood part of Tampa.
If you're considering a move here and would like some assistance in finding the right home or area, myself and my team would be honored to be your realtors. Contact us here. We are happy to have a conversation or answer any questions you may have around real estate or the areas.