Have you been noticing homes go under contract faster than before?
It's a result of how the Tampa Bay real estate market is doing. Covid-19 has been prevalent in Tampa Bay for just over 6 months and there has been a significant impact on the Tampa Bay Real Estate Market since the onset of the pandemic.
In my last real estate report, in May 2020, there was a mentionable 27% decrease in the number of sales and even fewer new listings entering the market. Demand was exceeding the supply which tightened inventory even further and the effects are being felt in our real estate market. In this report, you'll see trends for home inventory, sales, and sales price averages.
New Listings Trends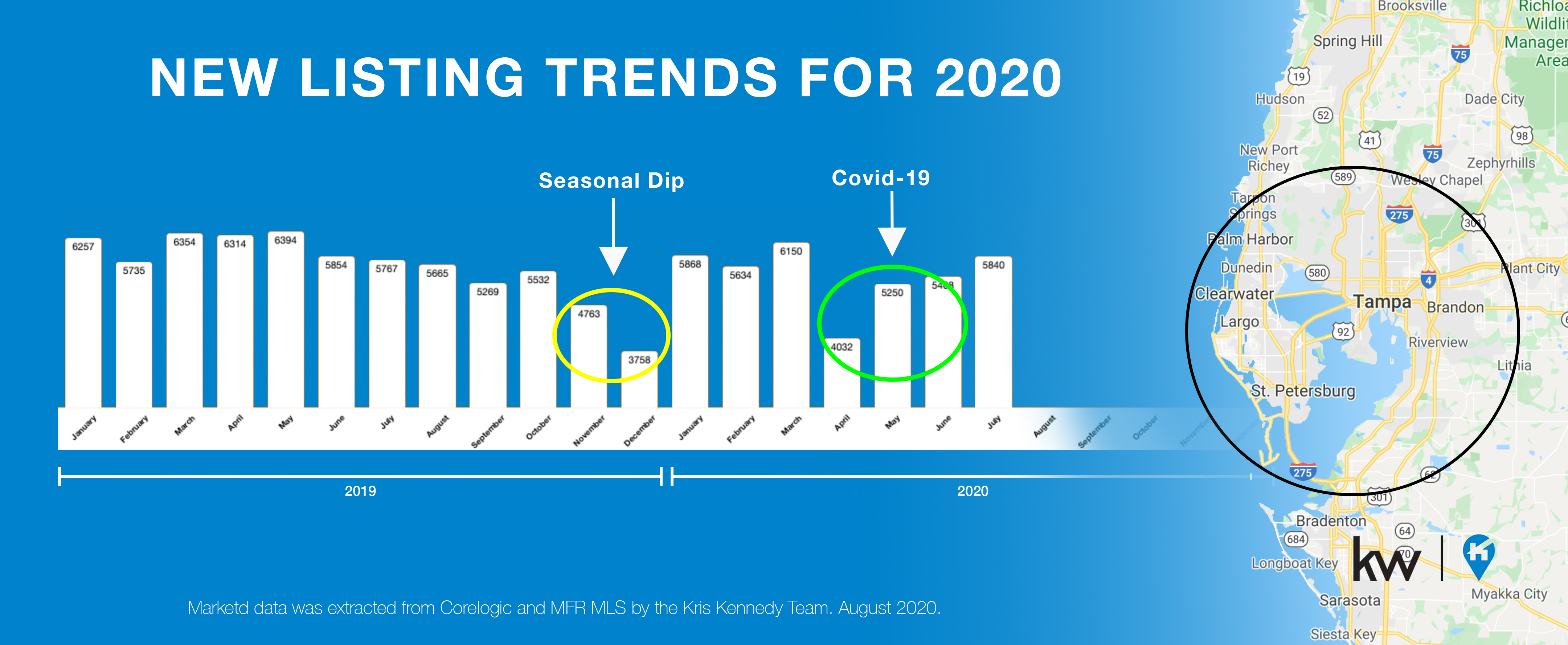 The Tampa Bay area is finally getting more inventory, but is it enough?
The month of April was when we noticed the biggest dip in new listings entering the market.
In the following months, we saw new listings gradually increase to almost normal levels since April of 2020 to 5,840 in July. Last year's numbers exceeded 6,000 listings per month. This still equates to a decrease in new listings entering the market by 8.6% YoY for July.
This is still better than the 35% YoY decrease in April when the pandemic began affecting our real estate market. Notice in the chart that the normal seasonal dip in new inventory occurs in November and December which is comparable levels of what we experienced in the April and May dip due to Covid-19. Now, let's look at the sales volumes.
Sales Volume Trends
The Tampa Bay market would normally expect close about 6,000 listings per month from March to July. That is at least what happened in 2019.
With the real estate sales starting off to a stronger start in January of 2020 compared to 2019, it would have been expected that the following months would exceed the 2019 numbers. As you can see in the infographic above, closed sales significantly decreased following the onset of when the Covid-19 pandemic took effect in our area of Florida. Sales volume dropped to a low of 3,639 sales in May which was a 36% decrease YoY. Then we saw a quick uptick in sales in June and July which put us at a sales volume greater than this time last year. There were 1.3% more sales in July 2020 compared to this time last year. April and May are typically months that have a relatively high amount of sales. It was atypical and to experience such a dip in these months this year. The decrease in sales was comparable to normal seasonal dips around the November and December holidays. (See infographic)
Sale Price Trends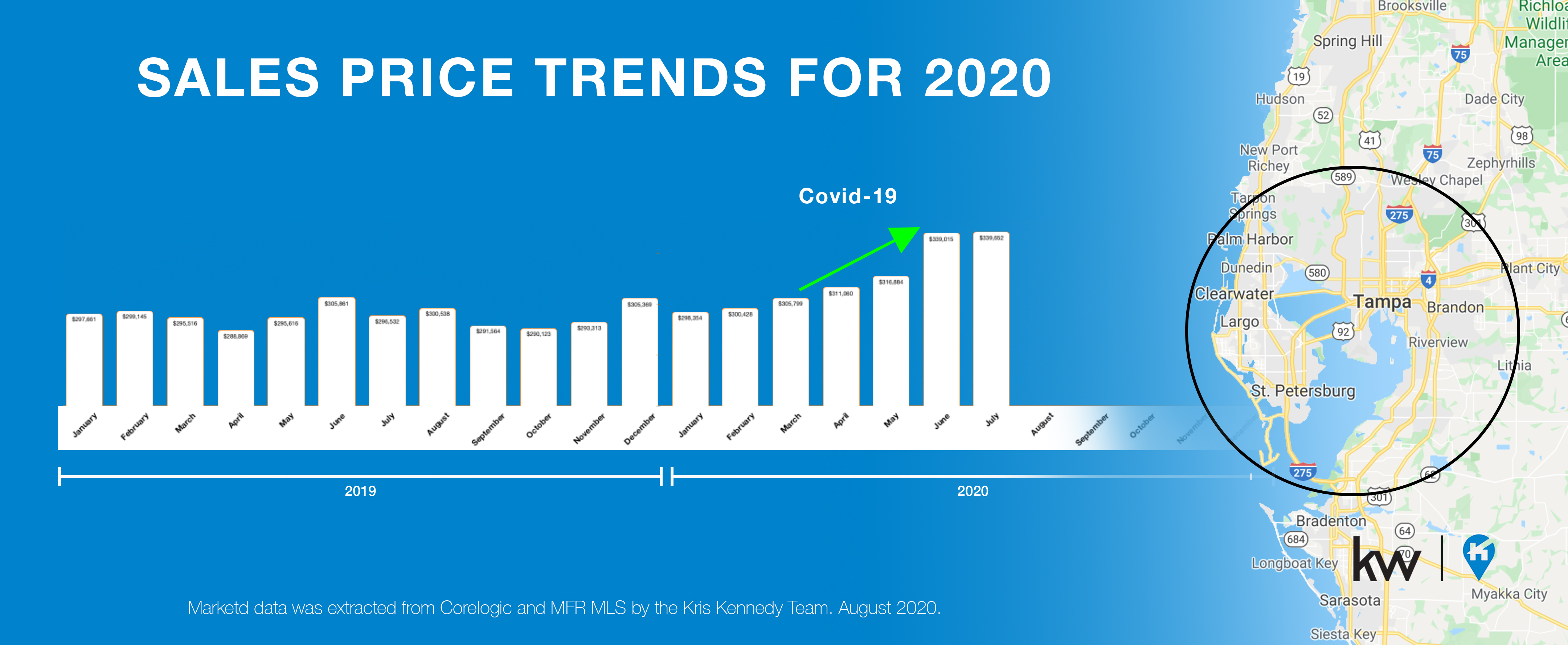 It's no surprise that with inventory lower and buyer demand greater, that sale prices would increase.
The sale price average in July of 2020 was up 14.5% from this time last year. The sale price averages for the past two months (June-July 2020) has been about $340,000. This is significantly up from this time last year. The highest sale price average in all of 2019 was $305,000 in both June and December of last year. As you can see in the infographic, the Tampa Bay area's sale price average has been at or above those numbers since March which is when the Covid-19 pandemic began seriously affecting Florida. Below are the average sale prices by month from January 2019 to August 2020.
Inventory Trends
At the time of this report, there are 7,043 homes for sale. If 5,764 sold in the past month, that would give us 1.22 months of inventory. This is a decrease from our last market update in May when we had 2.59 months of inventory. A balanced market is between 5 and 6 months of inventory.
What happens from here
I think we will most likely notice another dip in the number of sales in the next month or two due to the second wave of Covid-19 coupled with the beginning of the 2020 school season. I think the number of new listings will also decrease but to a lesser extent compared to the dip in April and May of this year. The upcoming presidential election will also add to many people's concerns or hesitations on purchasing or selling their homes. If the relative demand and supply levels remain the same, then sale prices will stay strong or continue to tick upward. It's crucial to pay attention to the real estate market and plan to maximize the opportunity of selling at the right time or buying a deal when they present themselves. Interest rates are still at an all-time low and buyers may have difficulty finding a home. Now more than ever, consult with your real estate professional when you're considering selling and/or buying a home.
Stay safe,
Kris