What's Happening with Real Estate in Tampa Bay?
The Tampa Bay real estate market had big changes last month. Is it a good time to sell? Is it a good time to buy? How has Covid-19 affected the real estate market? This blog will provide the data to help you answer these questions.
In my last market update, we saw that sales numbers were about 10-15% lower and sales price averages were still up for both MoM and YoY. That previous market update covered the time frame from March 11, 2020 to April 10, 2020. The significance of that time frame is that it is when the stay at home orders came into effect in the Tampa Bay areas due to Covid-19. Let's take a look at what's happened in our real estate market after almost 2 months of stay-at-home orders.
A couple of data points to analyze here begin with how many homes are selling and what are the sales prices doing?
Year-over-Year Changes in Tampa Bay Real Estate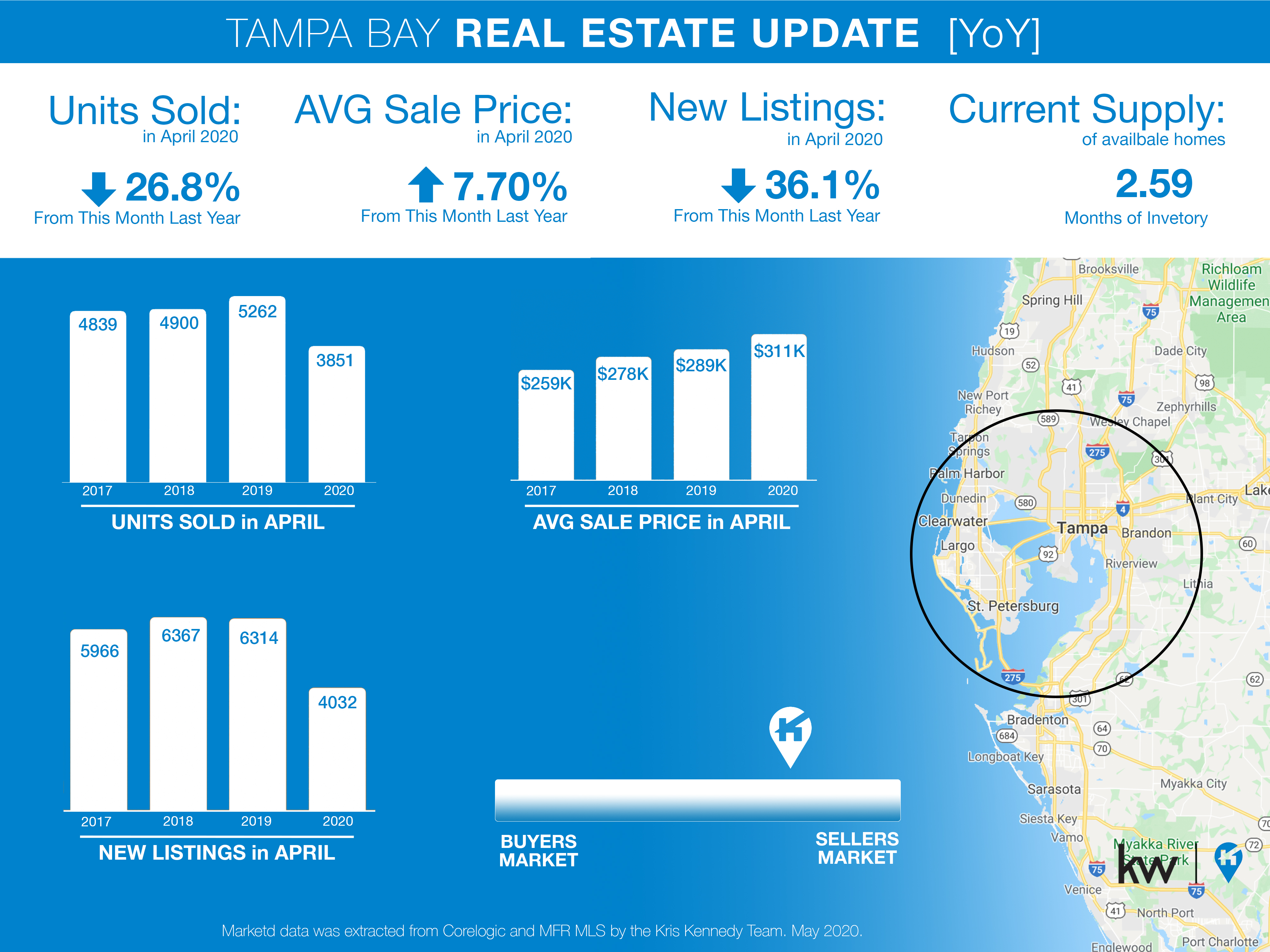 Month-over-Month Changes in Tampa Bay Real Estate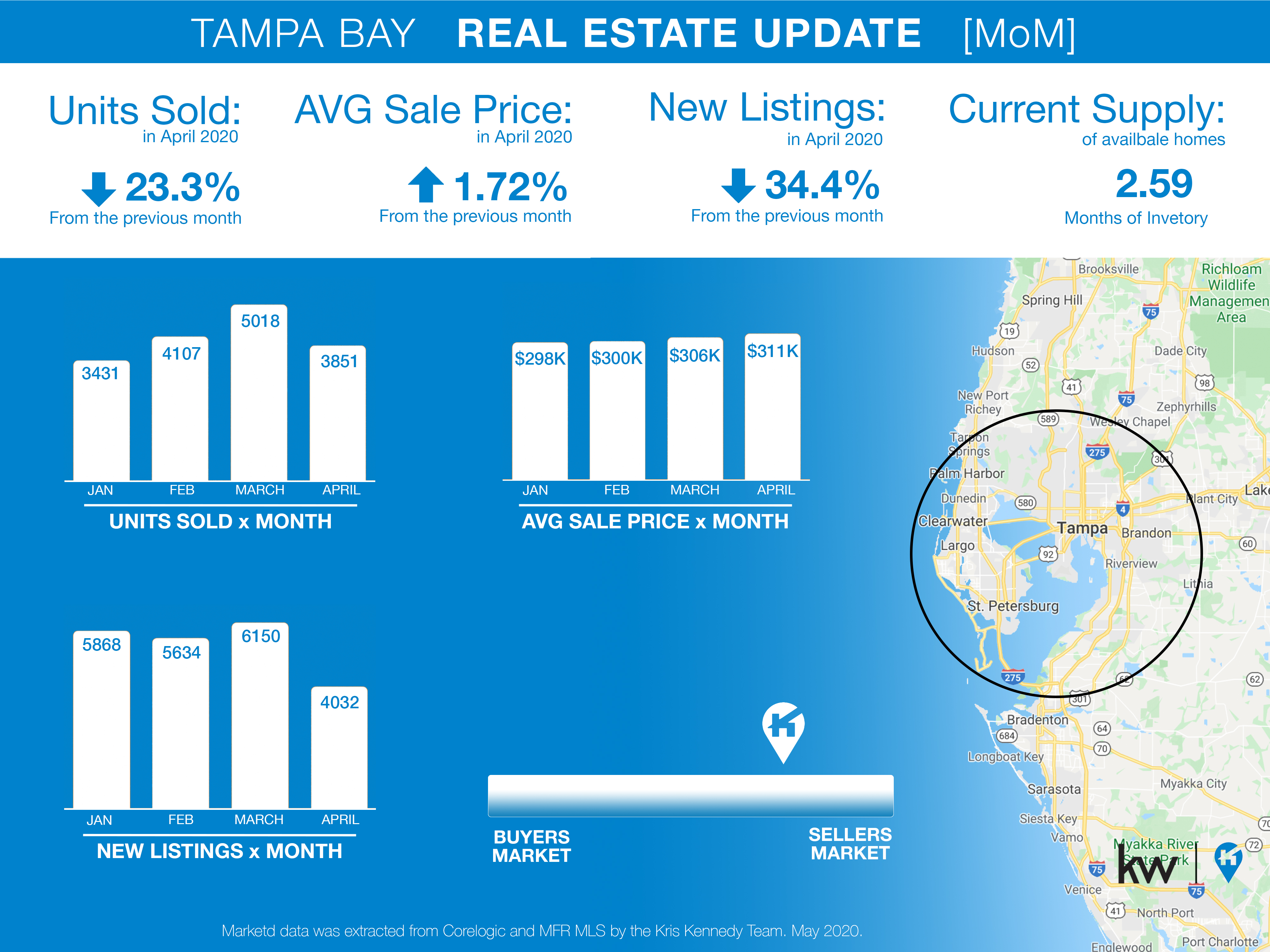 Tampa Bay Real Estate – Research Perimeters:
In this market update, we look at what happened in the month of April 2020. The current real estate sales trends are compared to the previous few months (MoM) and separately compared to the same month in the previous few years (YoY). It is important to analyze both MoM and YoY to see the most recent trends while also accounting for the seasonal trends. All of the data interpreted here are from within the designated 25-mile radius around Tampa Bay as referenced in the infographics. This area was selected because many people consider this radius to be the Tampa Bay Area. It does include large portions of Hillsborough County, Pinellas County, and Pasco County or the tri-county area. Tampa, St. Petersburg, and Clearwater are among the larger cities within this area.

What Are Normal Real Estate Trends in Tampa Bay: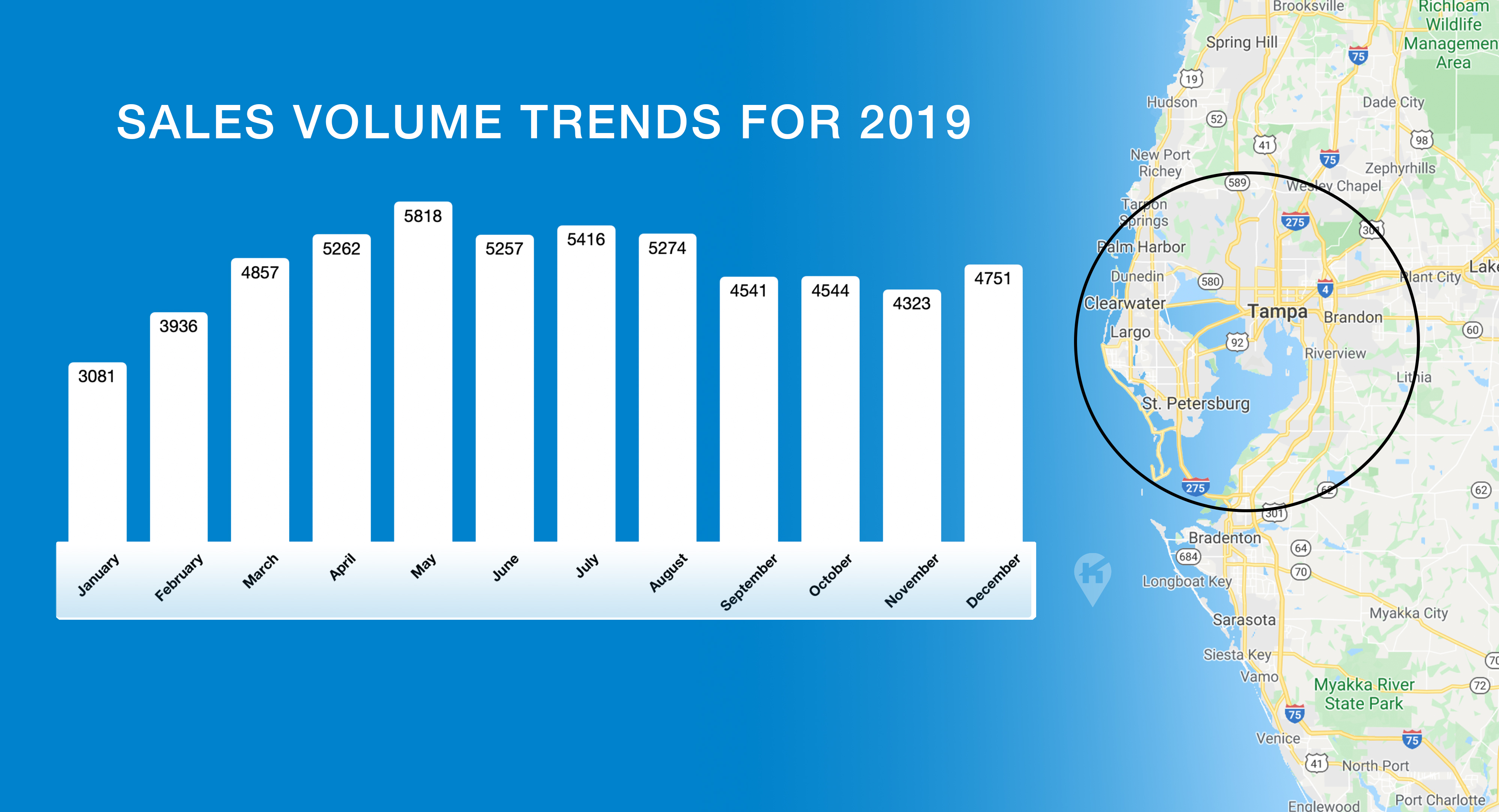 Let's first understand what is a normal trend for this time of year, so we may understand the significance of any current changes. It is typical to see a gradual increase in the number of units sold month to month from January to May. This is due to the large percentage of people that hold off putting their homes on the market or shopping for homes during the holiday season (mid-November to end-of-year). Since it can take anywhere from 30-60 days from the first day the home is on the market to close and become a sale, it makes sense to see an increase in sales in February through May. Another seasonal factor is the school year ending which allows for families to right-size their homes. Think of the high-school graduate leaving off for college where the parents don't need or want to maintain their 5-bedroom home. This scenario is more prevalent in primary residential areas like Tampa. Here's what happened this year so far.
The Number of Home Sales in Tampa Bay:
There were 3,851 home sales in April for this Tampa Bay area. There was a 23% decrease in home sales compared to the previous month and about a 27% decrease compared to this time last year in the Tampa Bay area.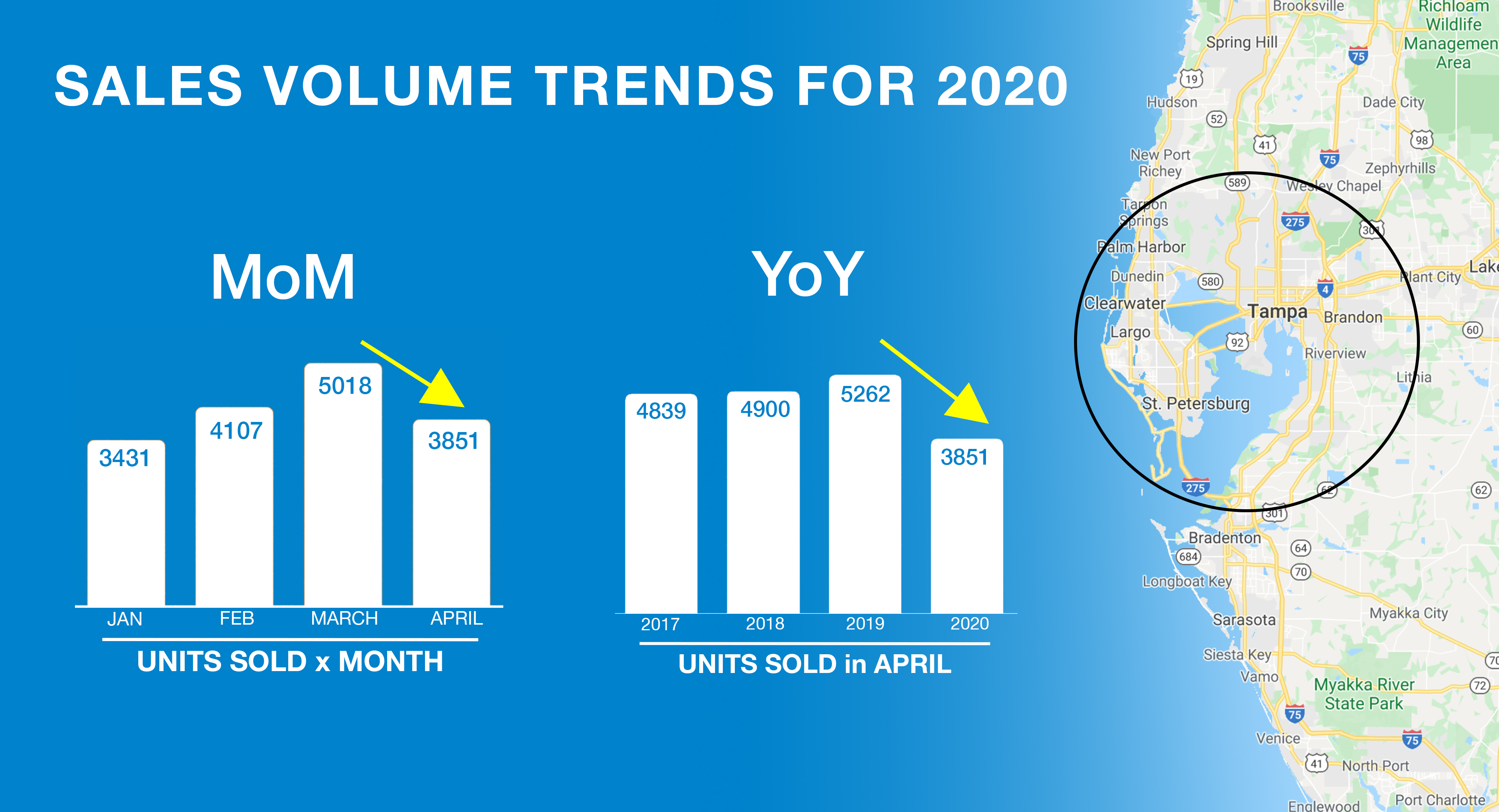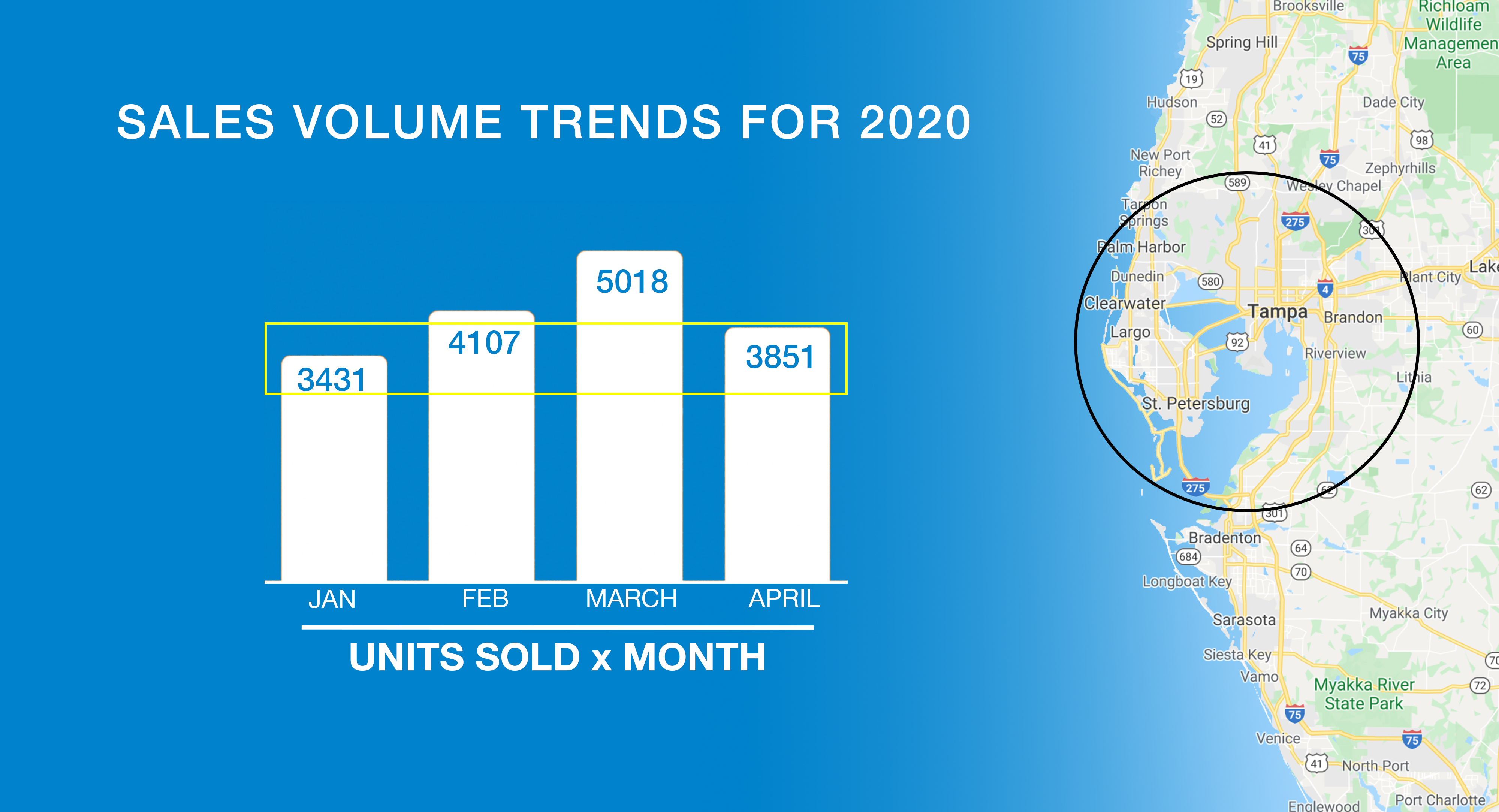 This is a significant decrease in sales and can be directly correlated with the economic effect of Covid-19. However, it is worth noting that even with a 23% decrease in sales, the sales volume is still at similar levels of this past January and February.
Let's see if or how home prices have been affected.
The Sale Prices Trends in Tampa Bay: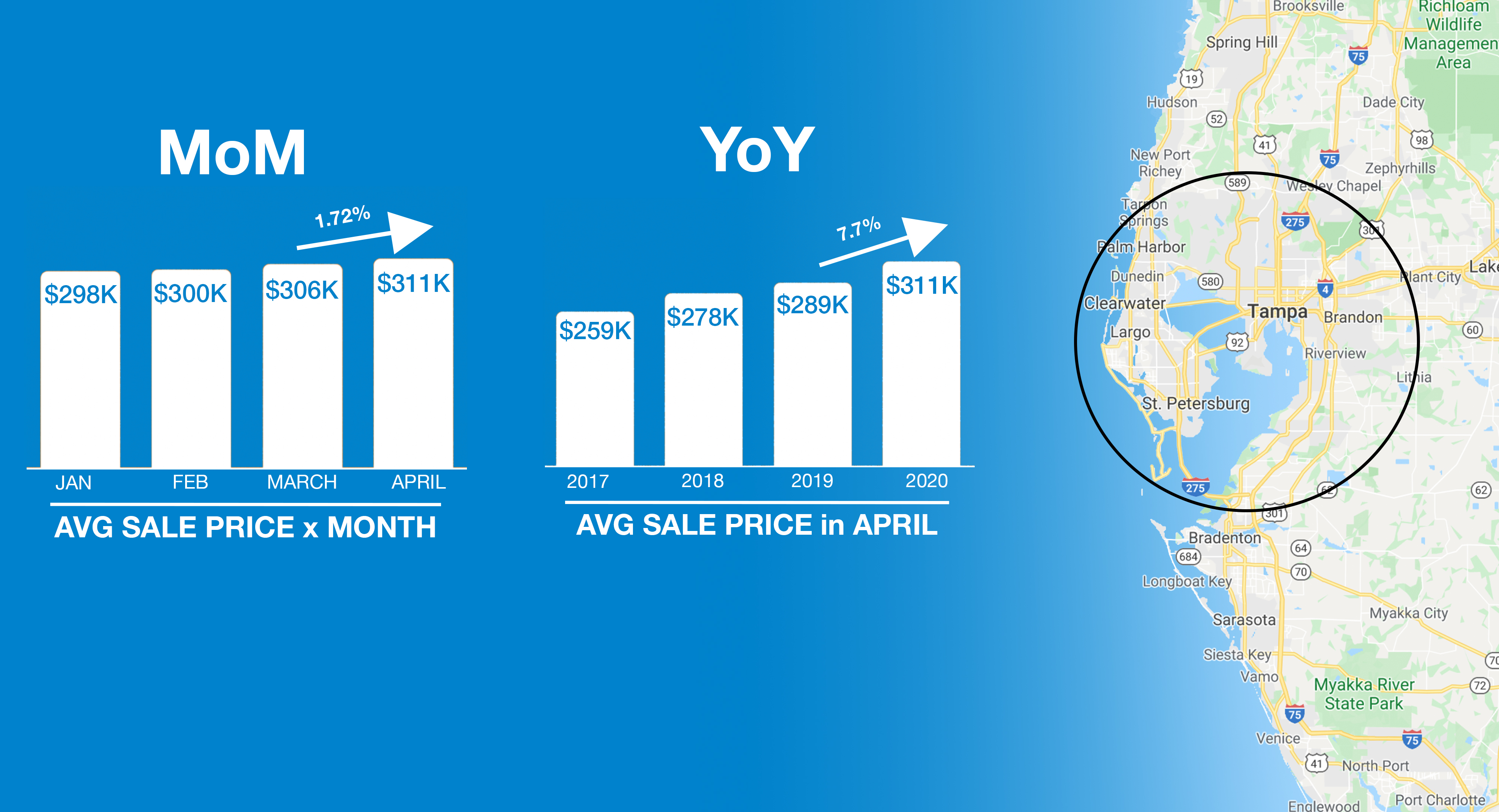 The average home sale price in April for this Tampa Bay Area was up to $311,080. The Tampa Bay home sale price averages were up by 1.72% in April from the previous month. This may seem like an insignificant amount, but what is notable is that sale price averages were most certainly not down. The average sale prices were also up from this time last year by 7.7%, which is above what many leading economists projected at the beginning of the year. You may find yourself asking, "If there are 25% fewer people buying homes, wouldn't home prices go down"? It's easy to think that. There are other factors that also influence real estate market conditions that must also be considered. An important factor that influences home sale prices is supply and demand. Let's see if and how that has changed.
Supply and Demand in Tampa Bay Real Estate:
One way to understand supply and demand is to look at how many new listings are entering the market.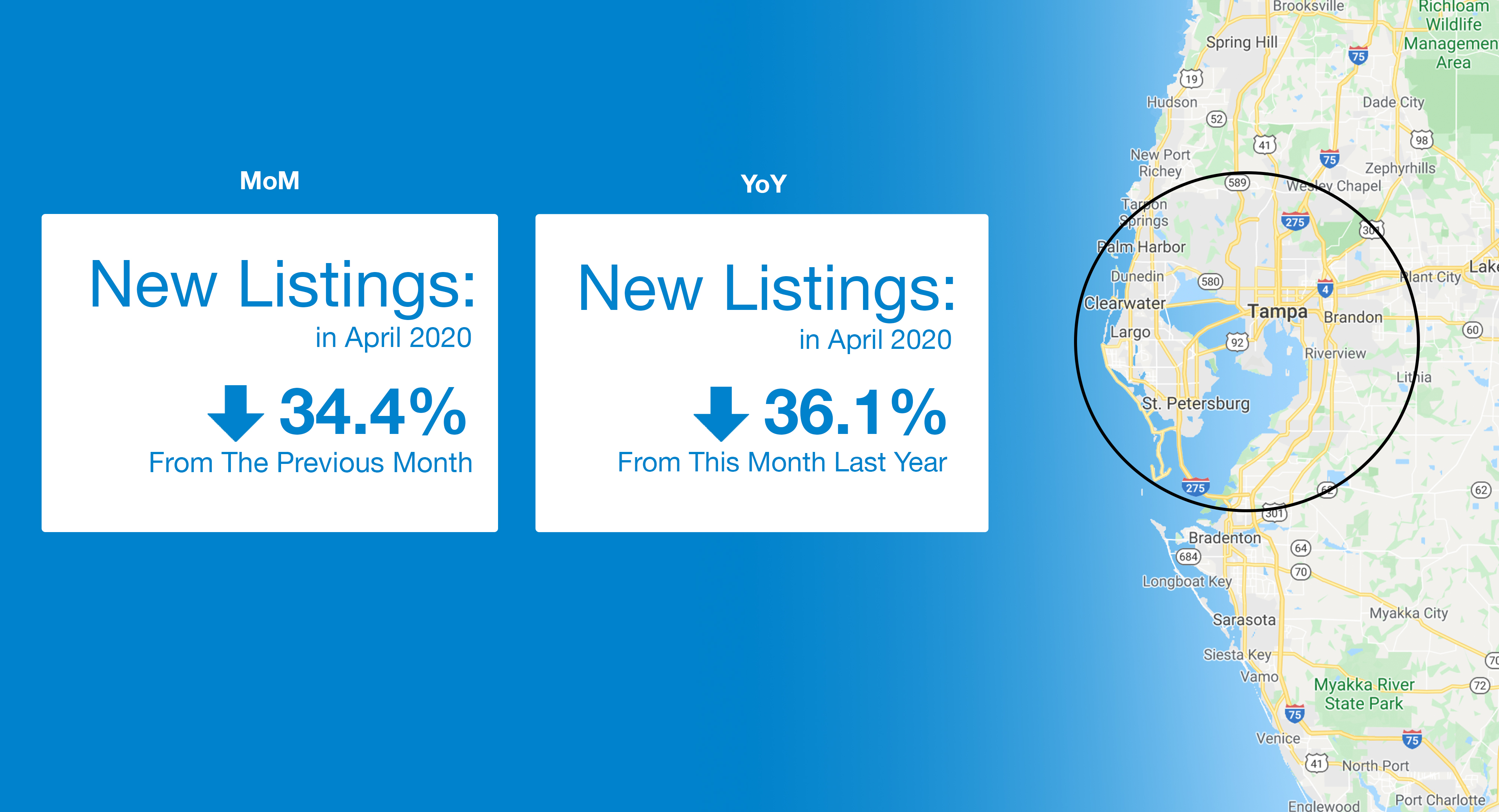 Similarly, we look at the new listings in April compared to the previous few months and at the same time the previous few years to consider the seasonal trends. There were just over 4,000 new listings enter the market last month in the relative Tampa Bay area. This is about a 36% decrease in new listings from both the previous month and this time last year. This is quite a significant drop in new inventory compared to what would be considered normal.

The number of months of inventory is another important factor to understand the supply/demand levels to help us understand pricing trends. This is measured by taking the number of home sales in a one-month time frame and dividing it into the number of active homes for sale.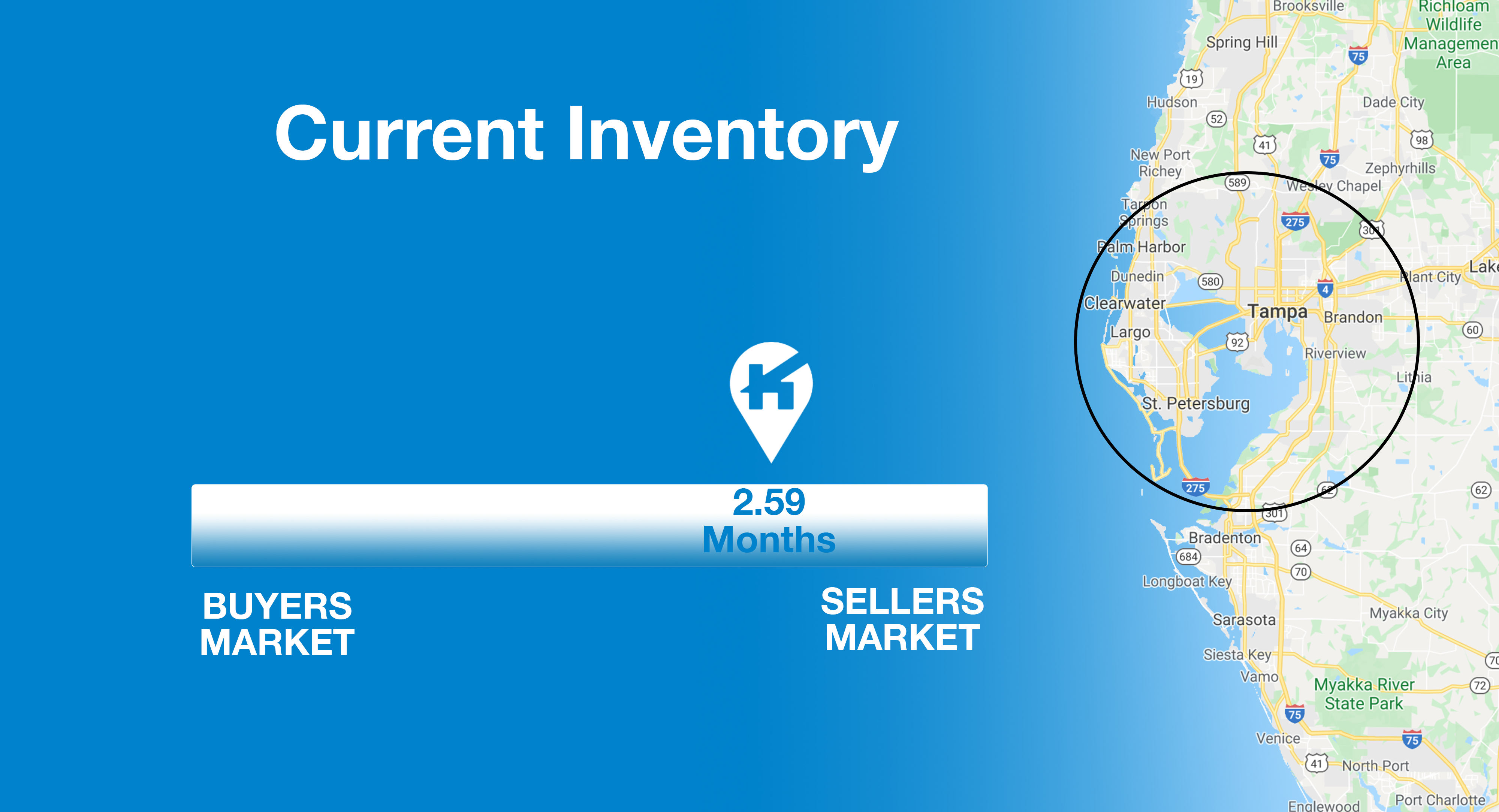 The Tampa Bay Area has had about 2 1/2 months to 4 months of inventory for the past couple of years. There are currently just over 2 1/2 months of inventory in the Tampa Bay Area which keeps well into the seller market territory.
Conclusion:
While there has been a significant decrease in home sales, there have been even fewer new homes enter the market. This has further decreased the available inventory of homes for sale relative to the number of active buyers. This is a main factor for the insulated home prices and could potentially be a driver in a future increase in home prices if the trend continues. With inventory at such low levels, it's a good idea to make an offer on a home if you find the right one, because chances are it will not be available for long. Interest rates are still extremely low and with no guarantee, the low rates will be here for long, it may be worth taking advantage if you're considering buying a new home. Home sellers can also take advantage of listing their homes in times like this because the relative demand is high and the low-interest rates increase the number of potential buyers that can afford the home.