Tampa Bay Market Update – April 2020
Here's how our market has been shaping up in the Tampa Bay area.
When it comes to our homes, I wonder the same things most people care about: Did the value of my home go down? What's happening to home values? Is it a good or bad time to buy? If I need to want to sell my home, will I have to take a loss?
A quick google search does not give me these answers and I do not want to wait for some generic answer to pop up on my Apple news feed. So I take it into my own hands by pulling data directly from the MLS or Corelogic and try to make sense of it. As someone that is active in real estate, invested in real estate, and generally curious about what's happening in the real estate market, this is important to me.
Home values are currently strong. There are significantly fewer homes going into pending status or sold status, however, there are even fewer new homes entering the market. The ratio of available homes to homes selling keeps this market undersupplied. Basically, fewer homes selling, but even fewer coming to market. Inventory remains historically low. The current demand for homes coupled with the low amount of inventory will keep home values steady or could even increase the value unless there's a significant swing in the supply-demand chain in the near future.
Tampa Bay Real Estate:
Sale price averages were up 4.7% to $307,000 from this time last year. The number of units sold decreased in the Tampa Bay area by 3.6%. The number of new listings that entered the market during this time decreased by 26.6% compared to this time last year. There are currently about 10,500 homes for sale in the Tampa Bay Area. There are currently about 2 months of inventory. (Infographic)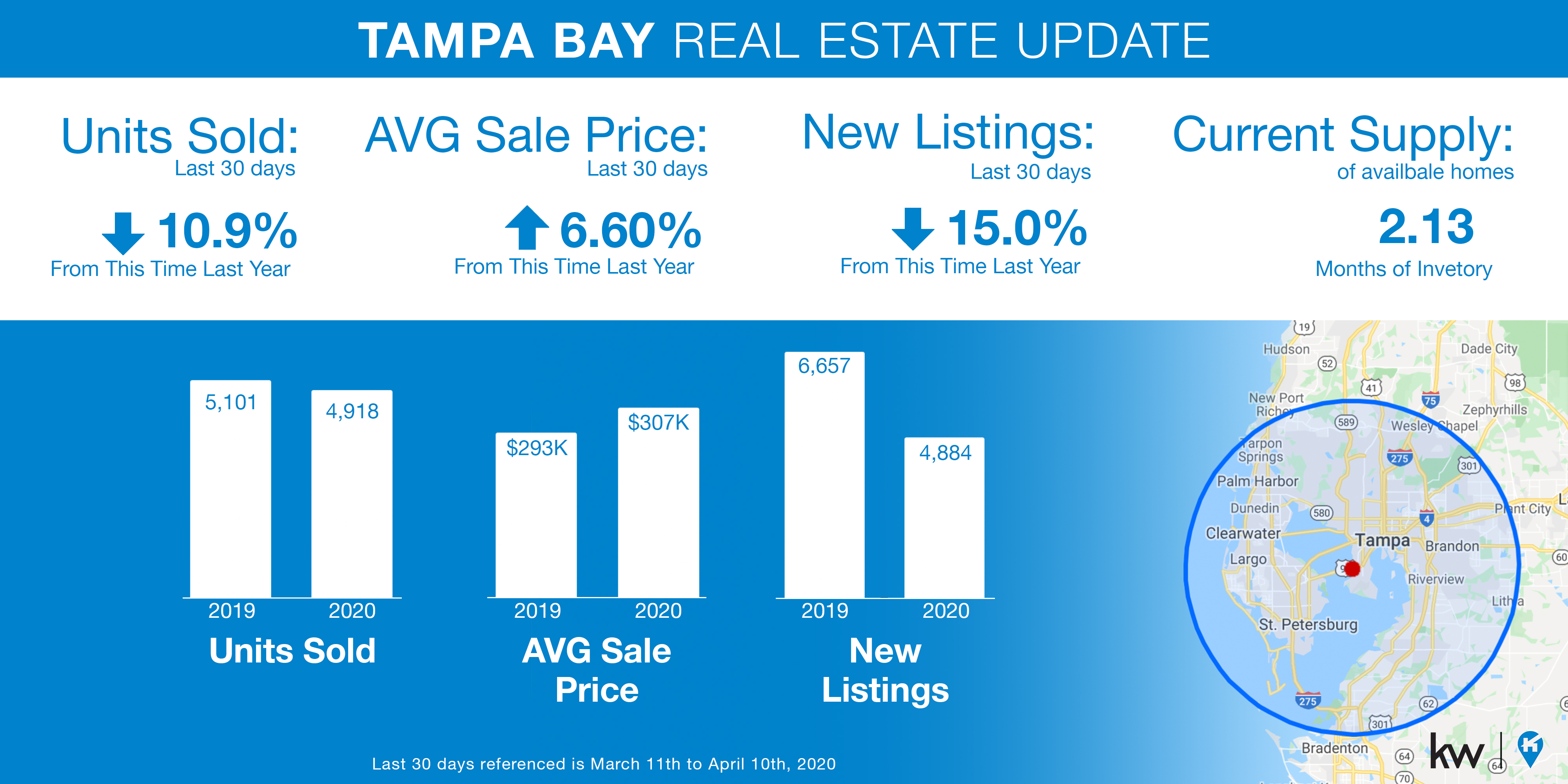 During these really strange times of the 2020 Pandemic, I am looking at the data weekly compared to monthly or quarterly. I share these reports with everyone for free so that we can all be informed and make confident decisions about what we do with our real estate.
Many people probably have the last recession on their minds where the real estate and mortgage market caused the recession. It's important to remember that a recession does not mean a housing crash.
In this market update, I have looked at the data for the most recent 30 days of activity from March 11th to April 10th, 2020 and compared the data to the same time in the previous year. This report is published on April 15th to allow for at least a few days for sales and status changes to be input into the MLS. For example, a home can go under contract on a Thursday evening, but the listing broker does not input the change on the MLS until the following Monday.
The data was collected for all residential property located within the referenced map area, which is a 25-mile radius surrounding Tampa Bay as seen in the infographic.
I particularly assessed the number of homes sold, the average sale prices for the timeframe, and the number of new listings during the time frame and compared the new data to the same time frame as last year (March 11-April 10, 2019).
I felt this was an appropriate time frame because the local stay-at-home restrictions were starting to become more serious around this time. This is also an appropriate amount of time to determine the extent of any market changes due to an economic recession from the COVID-19 Pandemic.
I hope everyone is staying healthy.