This blog post shares the data for the high rise condo market in St Petersburg, St Pete Beach, and to Clearwater Beach. The information here shows data from the second quarter of 2019 compared to Q2 of 2018.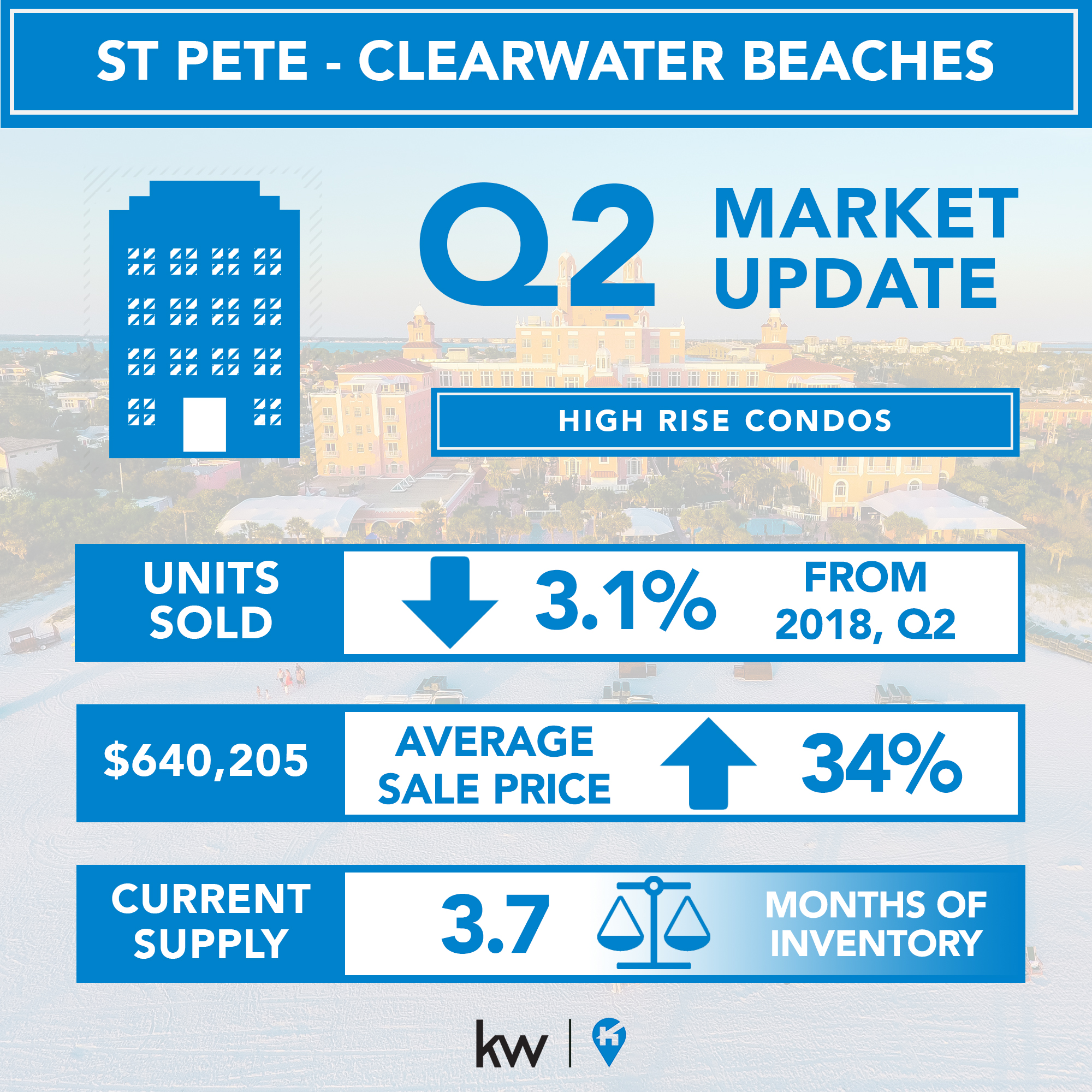 St Petersburg, St Pete Beach, and to Clearwater Beach
The number of high rise condo units sold in Q2 was down by 3.1% from Q2 of 2018. The average sale price increased to $649,415 which is an increase of 33.5% from Q2 of 2018. The current supply of high rise condos is 3.7 months of inventory. Six months of inventory is a balanced market.
Why was there such an increase in sale price averages?
There were a lot more closings in the higher price ranges in Q2 of 2019 compared to Q2 of 2018. The new construction high rise, One St Petersburg, located in downtown St Pete and across from the St Pete Yacht Club, received the certificate of occupancy allowing for sales to finally close. There were 15 units at One St Petersburg that sold for over $1,000,000 during Q2. There was also a $6,849,000 sale at Ovation Condo. There were a total of six sales that closed for over $2,000,000, 5 were in downtown St Pete and one was for $2,990,000 at the Residences at Sand Pearl in Clearwater Beach. Basically, there were a lot more higher-priced and new construction sales this past quarter compared to 2018 as you can see below.
The highest sale price during the second quarter of 2018 was for $3,375,000. There were only 11 total sales that closed for over $1,000,000 during this time. Fast forward to Q2 of 2019 – there were 27 total sales over $1,000,000. This is another reason why there is such a big jump in sale price averages from 2018 to 2019. The sale price per square foot (SP/SQFT) was up 17% to $388 in Q2, 2019 from $329 in Q2, 2018.
Another Perspective:
There were only two new construction high rise sales in the second quarter of 2018 compared to the 21 new construction sales in Q2, 2019. These 2018 sales were both located in the Salvador Condo at 199 S Dali BLVD and closed at about $470/SQFT. The 2019 new construction SP/SQFT averaged $724.
If you look at only resales for Q2 of 2019, then the average SP/SQFT is $336 which is only a 2.8% increase from 2018. This is a normal increase for a one-year time frame and is on par with most of Pinellas and Hillsborough County.
Summary:
The new construction condo sales skewed the averages and can make the perceived equity/price ranges seem misleading. There will be a drop in average sale prices for the St Pete Beach, Clearwater Beach, and Downtown St Pete high-rise condos during next quarter and remain steady until the end of 2020 or even 2021. The next new construction high rise to-be-built is the JW Marriott Residences in Clearwater Beach. As of now, the JW Clearwater list price per square foot ranges from $900 to $1250/SQFT. When these close, we will see another spike in sale price averages for the High Rise condos in St Pete and Clearwater.
If you would like to see current available new construction condos, visit ST Pete and Tampa Bay New Construction pages on our website here.