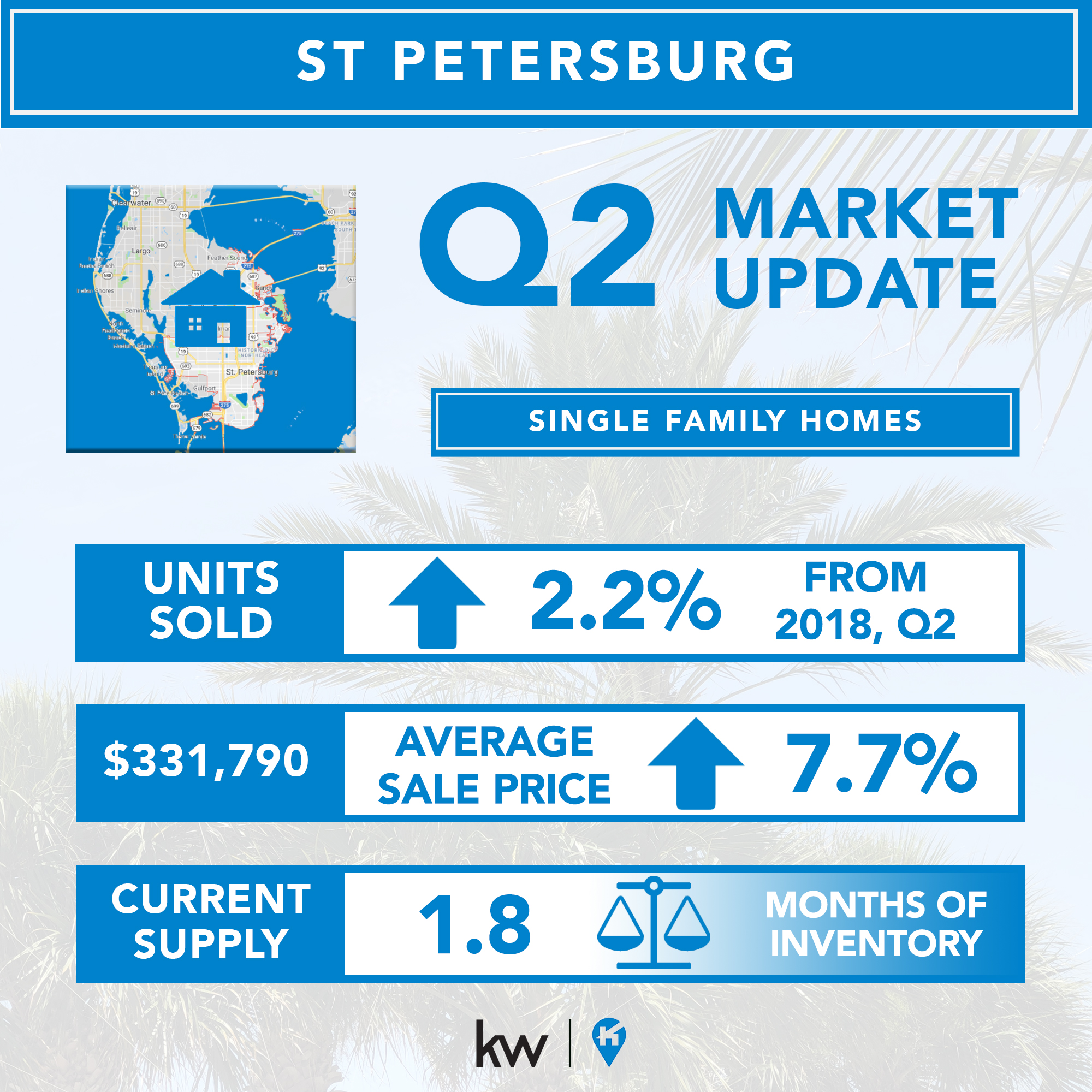 ST Petersburg real estate market: Q2, 2019 single-family homes
The weather is Hot and so is the St Petersburg real estate market! The above infographic shows data for the St Petersburg single-family home market for the second quarter of 2019. The number of units sold was up by 2.2% compared to Q2 of 2018. The average sale price was $331,790 which was 7.7% higher than Q2 of 2018. The current supply of single-family homes is at 1.8 months. A balanced market is about 6 months of inventory.
St Petersburg Compared to Pinellas County
The Pinellas County sale price average for single-family homes was $355,911 for Q2 of 2019. That's almost a $24,000 higher sale price average compared to the single-family homes in St Petersburg. The Pinellas County data does include all of the higher priced, waterfront, and luxury homes that sold in areas like Snell Isle, St Pete Beach, Treasure Island, Indian Rocks, Clearwater Beach, and etc. This is the overall average is higher for the county compared to the St Petersburg market.
To see how the ST Petersburg single-family homes market compares to South Tampa and Hillsborough County real estate, click here.
It is important to remember there are always submarkets performing differently than the overall market. Consult with your real estate professional if you're considering purchasing or selling a home.
Notes:
Data referencing "St Petersburg" does NOT include St Pete Beach.
The second quarter is from April 1st to June 30th. Data was researched in CoreLogic via Stellar MLS. This data does not include properties sold off-market or not on the MLS. For expert representation, call Kris Kennedy 813-947-3509 or contact us here.